Alan Brown explains Joshua's Law, endorses Drive Smart Georgia
August 21st, 2017
Jackie Kass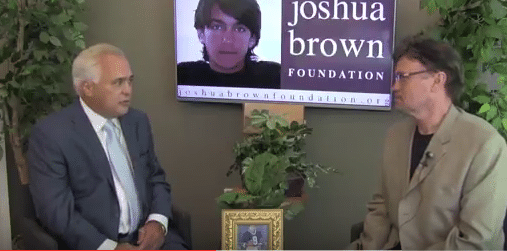 Alan Brown, the founder of Joshua's Law in Georgia and 13 other states sat down with Kirk Bressette, the CEO and Co-Founder of Drive Smart Georgia to explain Joshua's Law. The teen driver activist also endorsed Drive Smart Georgia as the only driving school in Georgia that he supports.
The history of Joshua's Law
Joshua Robert Brown, a 17-year-old from Cartersville, GA., was an overachieving teen who loved football and baseball. Because of his musical talent, he was accepted into a prestigious music school in Boston, where he planned to attend after his high school graduation.
However, Joshua's life ended way too early in 2003. On July 1, he was driving on a two-lane highway in the rain when his truck hit a puddle of water, hydroplaned, and crashed into a tree. Severely injured, the teen fought to stay alive for nine days, but passed away on July 9.
This is every parent's worst nightmare. Joshua's dad, Alan Brown, was distraught beyond belief and had to pick up the pieces of his shattered life. "I spent a year in a very, very dark place," the creator of Joshua's Law said with sadness. "I was in the worse place a human can be in."
Joshua's Law passes
However, Mr. Brown made the difficult decision to turn his grief, guilt and emptiness into a personal crusade after hearing "the voice of God in my sleep." He then proceeded to write Joshua's Law that night and finished it in the very wee hours of the morning. Finally, he presented the bill to his state senator, who said it was the best piece of legislation that he had ever seen.
In 2005, Senate Bill 226, also known as Joshua's Law, was passed with an overwhelming majority of 87% in the Georgia House and Senate. The bill was considered the most important piece of legislation passed in many years. Its tighter teen driver requirements of Joshua's Law went into effect on January 1, 2007.
The success of Joshua's Law
Since then, Mr. Brown has helped pass Joshua's Law in 13 other states and three national teen driving bills. He has worked actively with the Centers for Disease Control and the Academy of Science and Medicine to help promote teen driver safety. In addition, he worked with the US Congress to pass a bill that requires automakers to install Electronic Stability Control systems in every car made after 2011. This particular law saves approximately 15,000 lives every year.
Interview with Alan Brown,
the founder of Joshua's Law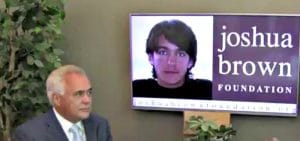 Last month, Alan Brown and Kirk Bressette sat down to talk about Joshua's death, Joshua's Law, and the importance of a quality driver's ed program. Mr. Bressette from Drive Smart Georgia conducted the interview. Below are Mr. Brown's answers.
Q: What did it feel like when you received
the call about Joshua?
I got a call that he was at the hospital, but I didn't know if he was sick or had an accident. He was airlifted to Grady Hospital and fought for nine days. On Saturday, July 9th at 10 am, he passed away. I fell to the floor and screamed. The rest of it is kind of blurry.
Q: Does time heal all wounds?
You just can't get over it, but you learn to live with it. There's not a day that goes by that I don't have a breakdown. It's my cross to bear.
Q: What exactly is Joshua's Law?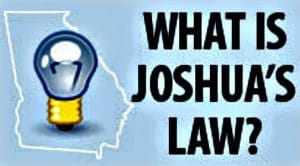 Joshua's Law is really pretty simple. It says if you are 16 and you want your driver's license, you have to take an accredited driver's education course or wait until 17 to get your license.
Q: Has Joshua's Law saved lives?
Joshua's Law saves 22,000 lives per year times 10 years = 220,000 young lives since it was passed.
Q: How important is it to choose a
quality driver's education program?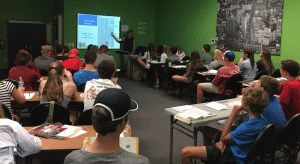 Very! I strongly believe that had someone taught Joshua what to do when he hydroplaned, he'd be here today. That's the burden I live with. My son is not here because of my mistake.
Q: Is there room for improvement in driver's education
in the country?
Absolutely! How do you learn how to drive a vehicle online? I don't get it. Now, you can get driver's education online and the state can't even prove you took the test, but it satisfies Joshua's Law. That is ridiculous. It's not what I had in mind at all. I hate it.
Why do you support Drive Smart Georgia?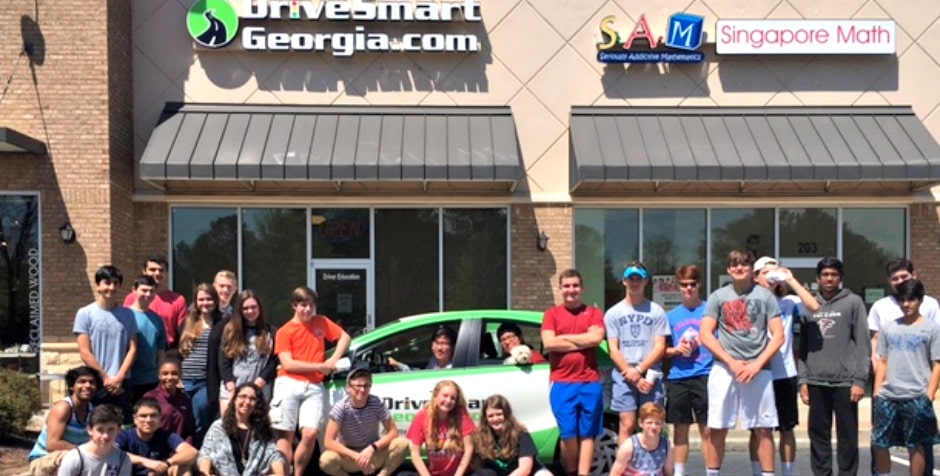 All driving schools are not created equal. If you're willing to pay $19 to get your child an online driver education program, you don't love them enough.

There are other driving schools around the state, but I endorse only one – Drive Smart Georgia. The curriculum is pretty much the same. They pretty much are. It boiled down to people. These guys care. They love the kids and that's why I support them.

Joshua didn't do anything wrong. He hydroplaned into a tree at 40 mph. Do you know what to tell your kids when they hydroplane? When their tires run off the pavement, do you know what to tell them? I bet not.

I feel I let Joshua down. He needed help, but I thought he'd grow into it. Parents are not qualified driver's education teachers.
What advice can you offer parents of teen drivers?
Parents, wake up. Do something for your child. How much money do you spend on  birthdays? Christmas? Give them the gift of life. You don't want to live like I live.

Don't fuss about the cost. What's the value of your child? Is that child worth $500 to you? Pay the money and find them a quality driver's education program. Save their life. Please. You don't want to live in my world.
What advice can you offer teen drivers?
If you text and drive and get in a wreck, you're going to jail. It's the way the law is. Be careful.
Joshua's Law: In review
If your child wants to get a driver's license at age 16, he or she must take an approved driver's ed course. To see why Drive Smart Georgia is different and approved by Alan Brown, check out this website.
CLICK HERE get our free newsletter and teen driving tips for parents!
Related Articles:
---
Get Social! Share Alan Brown explains Joshua's Law, endorses Drive Smart Georgia