Students begin Drivers Ed at new Drive Smart Georgia location in Cumming
April 10th, 2017
Jackie Kass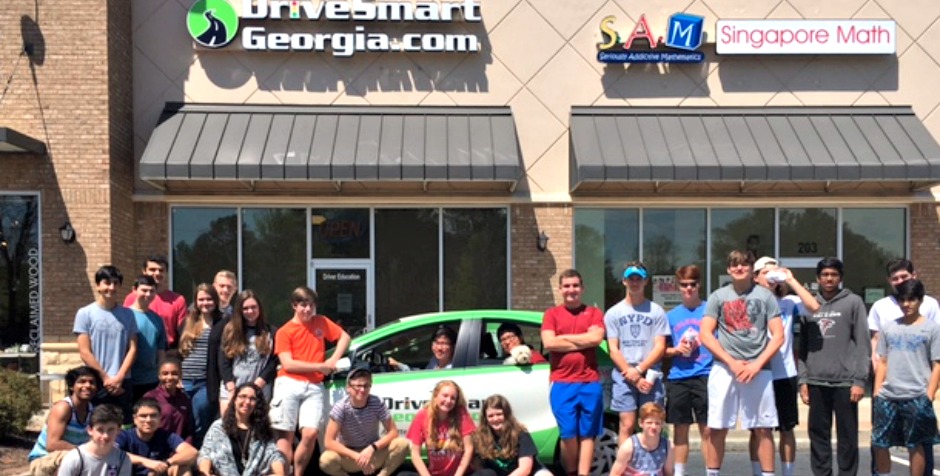 April Fools' Day was very memorable for Drive Smart Georgia! That's because our very first class began their Driver's Ed course on April 1, 2017 at our new location in Cumming. Last month, Drive Smart Georgia purchased Georgia Driving Coach. Since then, we've been incredibly busy painting, cleaning, sprucing up, and readying our new location on Peachtree Parkway. To beat the summer rush, our first class opted to take Driver's Ed during their spring break. CEO and Co-Founder Kirk Bressette stated about the milestone,
We're so excited to welcome our new students to our brand-new location. With the opening of Drive Smart Georgia Cumming, we're able to save even more young lives. Our #1 priority has always been to teach lifelong good driving skills, not just those needed to pass the test.
Alan Brown, the driving force behind Joshua's Law, agrees and endorses Drive Smart Georgia. After losing his son in 2003 due to a car accident, Mr. Brown turned his grief into a personal crusade. He lobbied the Georgia Legislature and got Joshua's Law passed in 2005. Since then, Joshua's Law has saved thousands of lives. Concerning Drive Smart Georgia, Mr. Brown said…
I've had the opportunity to work with driving schools all over the country. One thing is for sure – they all are not the same. Drive Smart Georgia is the best driving school I've ever seen. They truly care about keeping kids safe on the road.
Joshua's Law requires that all 16-year-olds must complete a 30-hour Driver's Ed course. The one offered by Drive Smart Georgia is approved by AAA and features our high-energy, signature curriculum. Our packages also include 6 or 10 hours of in-car lessons with a certified instructor.
The new Drive Smart Georgia location is located at 1790 Peachtree Pkwy; Cumming, GA 30041 (same shopping plaza as Spa Sydell). It's located just four miles east of GA 400, meaning students at South Forsyth and Lambert High Schools, plus Pinecrest Academy now have a quality driving school less than five miles away. Services include a state-approved Driver's Ed program for teens that meets the rigorous requirements of Joshua's Law and in-car driving lessons for teens and adults.
To commemorate the Grand Opening of our new Cumming location, Drive Smart Georgia is offering an incredible deal! From now through May 25, 2017, parents can book the Road Wise package for just $299 for a savings of $200! It includes the 30-hour Driver's Ed class, plus 6-hours of in-car driving lessons. The class must be taken prior to May 25th at our new Cumming location only. Click here to register and use discount code GRAND.
If you're interested in our Johns Creek or Alpharetta location, book any April or May class now through April 16 and save $75! Register online for Johns Creek or Alpharetta and use discount code EASTER.
Discounts are available only on initial purchases and not valid with other discounts.
CLICK HERE to get our free newsletter and teen driving tips for parents.
Related articles:
What are the top 5 dangers for teen drivers?
---
Get Social! Share Students begin Drivers Ed at new Drive Smart Georgia location in Cumming