Gifts for new teen drivers for the 2021 holiday season
December 14th, 2021
Jackie Kass
Be sure to check out our top 5 gifts for new teen drivers if a newly licensed teenager is on your 2021 holiday shopping list. All commemorate the big milestone of getting a driver's license.
Gifts for new teen drivers
The gift doesn't have to be expensive, but if it's related to driving, it's sure to be a hit. First, find the perfect gift for your new driver. Then, play Santa with one of these gifts for new teen drivers – just in time for the 2021 holiday shopping season. The experts at Drive Smart Georgia recommend these gifts for new teen drivers.
#1 – 8-in-1 Maintenance and Car Escape Tool
Is your new teen driver riding around without an emergency multi-use tool in the vehicle? The WORKPRO 8-in-1 maintenance and car escape tool is the perfect multi-tool kit to keep in all of your family's vehicles.
Maintenance features include a digital tire pressure gauge, a tire tread depth meter, and a tire pressure release tool. It also includes an LED flashlight, a glass breaker, flashing emergency lights, and a seat belt cutter that can be used in the event of an emergency. All this in one convenient multi-tool.
This essential car safety tool comes equipped with a lanyard and a magnet for easy hanging. It can also be easily stored in a glove box or center counsel for quick access when needed.
Available on Amazon for just $18.45.
#2 – Keychains with a message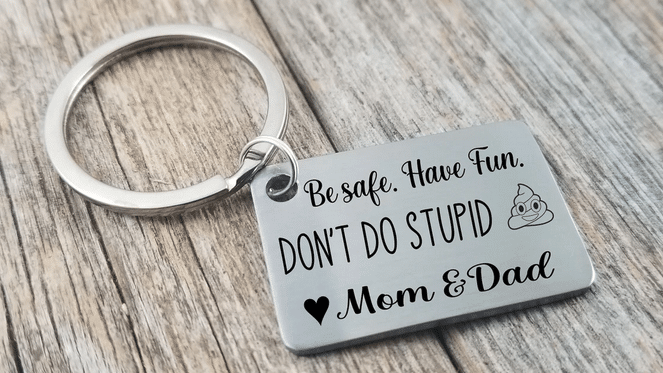 Teens are always excited to hit the road after getting their license, but parents – well, not so much. These keychains remind your teen to exercise caution on the road and return home safe and sound. Different versions feature poignant sayings such as "Don't drive faster than your guardian angel can fly," "All roads lead home no matter where you roam," and "Be safe. Have fun. Come home." Head to the Etsy.com   to choose from different new driver keychains with safety messages.
#3 – Roadside assistance emergency car kit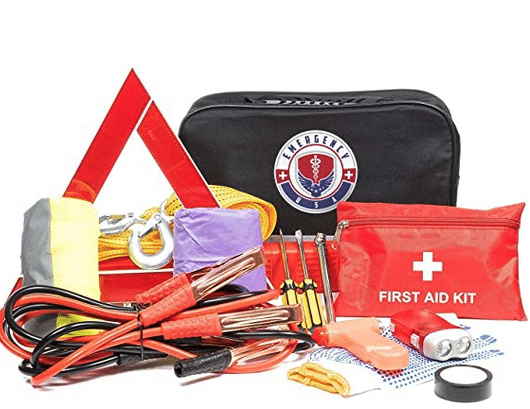 No parent likes to think about a potential roadside emergency, but if one should arise, make sure your new driver is prepared to handle it. This roadside assistance car kit includes a reflective warning triangle and safety vest, a strong tow rope, 2 gloves with gripping palms, a safety hammer and seat belt cutter, a LED flashlight, adhesive tape, a raincoat, a tire pressure gauge, a screwdriver, jumper cables and an emergency blanket. Plus, you will get a fully equipped first aid kit. This great gift for new teen drivers costs $41.99 on Amazon (Prime) .
#4 – Complete car cleaning kit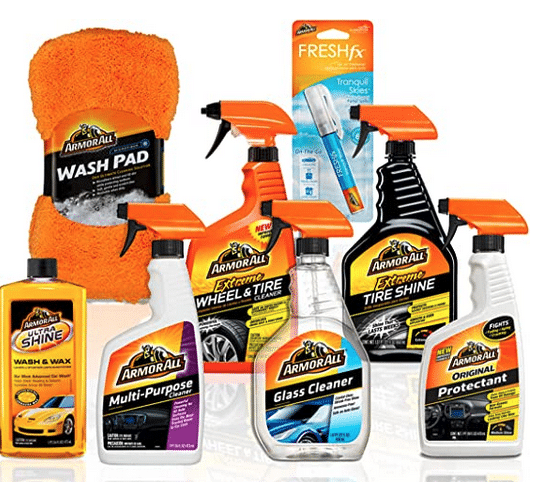 Part of responsible car ownership is keeping the car relatively clean. Not only does this make for better, less distracted driving, but it can keep paint damage/rust from forming, and stains from setting into the seats.
By purchasing this cleaning kit, you'll be reinforcing the idea that you expect your teen driver to keep their own vehicle clean, and/or help with keeping the family vehicle clean now that they'll be driving in it.
Armor All's premium car care kit includes the following to clean, shine and protect any vehicle.
16 fl. oz. Ultra-Shine Wash & Wax, 22 fl. oz. Glass Cleaner, and a wash pad for the exterior of your car.
16 fl. oz. Original Protectant and 16 fl. oz. Multi-Purpose Cleaner for the interior of your car.
24 fl. oz. Extreme Wheel & Tire Cleaner and 22 fl. oz. Extreme Tire Shine for the wheels and tires.
On-the-Go Car air freshener pump spray to keep your car smelling clean and fresh.
Click here to buy this kit for your teen driver for $31.98 on Amazon (Prime).
#5 – Personal alarm keychain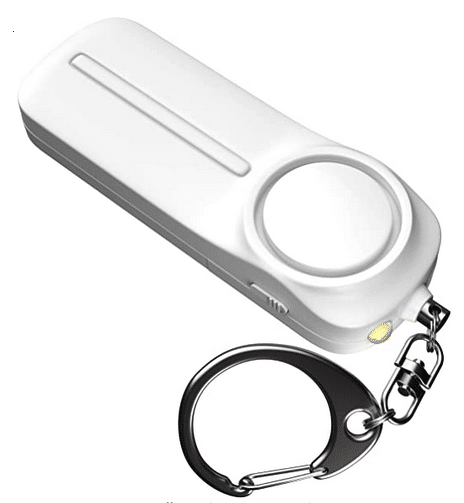 Increase your teen driver's safety with WETEN's personal alarm siren. It's a small but loud and bright portable protection device that startles attackers and alerts others to emergency situations. To activate the alarm with flashing light, just pull the pin. Press and hold the button for flash mode. Once activated, the keychain sounds an ear-shattering ultra-loud 130db dual siren alarm that can be heard from 500 feet away with the click of a button. Two AAA batteries are included. This convenient safety device sells for $$16.95-17.95 on Amazon (Prime).
CLICK HERE get our free newsletter and teen driving tips for parents!
Related Articles:
---
Get Social! Share Gifts for new teen drivers for the 2021 holiday season