Drive Smart Georgia encourages Johns Creek High School students to make smart driving decisions before prom
April 16th, 2015
drivesmartgeorgia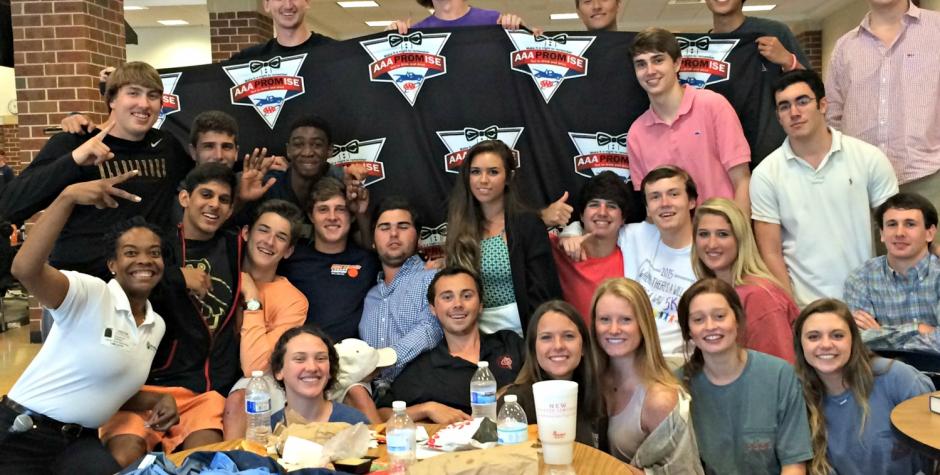 Prom season 2015 in Atlanta has arrived. Drive Smart Georgia wanted to make it a safe one for Johns Creek High School students. That's why it headed out to JCHS on Wednesday, April 15, 2015 to sponsor an event about making safe driving decisions during the dangerous prom season. During the prom-themed teen driver safety event, stations were set up to address dangerous driving behaviors and situations. Students were encouraged to take AAA PROMise pledges to avoid alcohol, drugs and distracted driving habits. They also practiced driving on a simulator and wore "drunk" goggles to see how alcohol and drugs affect reaction time behind-the-wheel.
Local businesses supported the event in a huge way. When students took the pledge, they were entered in to a raffle for prizes. To encourage students to take the AAA PROMise safe driving pledge, Chick-fil-A, Cheeseburger Bobby's, Chili's, and Zaxby's all made generous contributions of free food coupons.
Principal Gail Johnson said of the Drive Smart Georgia event, "Events like these that give students firsthand experience of what impaired driving can do allows them to make good judgments when they're in real life situations and faced with tough decisions." Bailey Shey Morris, a 17-year-old senior added, "I am so glad that Drive Smart Georgia can come out to high schools to encourage kids to take the PROMise. This is something I feel strongly about, so I am proud to take the pledge and support it!"
Another Teen Driver Safety Event is set for Alpharetta High School on April 22.
---
Get Social! Share Drive Smart Georgia encourages Johns Creek High School students to make smart driving decisions before prom