Car Maintenance 101 for teen drivers
March 28th, 2017
Jackie Kass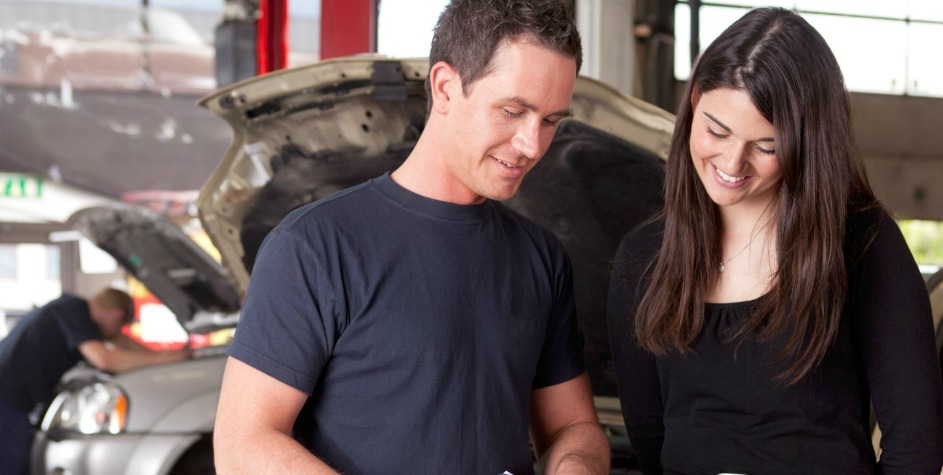 Most teens can't wait to get their driver's license. It means they're finally able to get from point A to point B without mom or dad. "Freedom!" they shout to themselves as they back out of the driveway solo.  Parents can't wait for that magical sound of the garage door raising, signaling their child's safe return. This newfound freedom comes with added responsibilities. If your teen driver is old enough to drive a car, he is also old enough to learn about the importance of regular car maintenance. Below are some valuable Car Maintenance 101 tips from Drive Smart Georgia. A little knowledge will go a long distance to keeping your child safe on the road, even in emergency situations.
Tire pressure, tread and rotation
Good tires are essential to the safe operation of a vehicle. Tires that are under-inflated by more than 25% are three times more likely to be involved in a crash. Electronic tire gauges are an easy way to check tire inflation. Make sure your teen has one and uses it frequently. To check your tires' tread, simply insert a penny. If you can see all of Lincoln's head, it's time to buy new tires. Take some time to show your teen how to check both tire pressure and tread. Plus, give your teen a hands-on lesson on changing a flat tire. Regular tire rotation helps extend the life of the tires and improves performance. According to Michelin, tires should be rotated every six months or 6,000-8,000 miles.
Change the oil
Additives in modern engine oil that reduce engine wear-and-tear break down after 3,000 miles and affect engine performance. If you're a parent, but not a car maintenance expert, take your teen to a reliable mechanic and explain why regular oil changes are critically important. Also, show your new driver how to check oil levels. Check out this Gold Eagle resource for easy step-by-step instructions.
Get familiar with warning lights
Warning lights help keep teen drivers safe by alerting them of potential problems. Sit in the car with your child and explain where the warning lights are and what they mean. For common warning lights and symbols, check out this article by Mental Floss and share it with your teen. Tell your new driver to alert you or a mechanic when one does light up.
Wipers, blades and fluid
More crashes occur in raining or snowy weather because a driver's visibility is reduced. Show your teen driver how to check windshield washer fluid and the blades themselves. Also, Rain-X applies water-beading technology to the windshield for greater driving visibility. If your new driver is planning a long drive to or from college, it's a good idea to apply a coat before the trip.
Don't forget about the lights
Other than the horn, vehicle lights are the only communication with other drivers on the road. Tell your teen to check front and rear signal lights, low and high beams, plus back-up and brake lights at least once per week and preferably at night. If your vehicle can't be seen at night, it's a target for a potential collision.
Brakes and battery
At every oil change, make sure to have your battery and brakes checked. No starts are the number one call to most roadside emergency services. Make sure the connection is clear with no corrosion. Brakes are critically important, so it's best to leave this essential check to the pros. According to Brakes Plus, brakes should be inspected every five months or 5,000 miles.
Be prepared for an emergency!
Before sending your child out on the road on his own, be sure an emergency kit is tucked in the vehicle. Many pre-made kits include emergency supplies like jumper cables, a first aid kit, blanket, flashlight, roadside flares, tool kit, and more.  If your teen plans on driving 50 miles or more from home, make sure he is prepared for a potential roadside emergency.
Consider a roadside emergency service
Your teen will likely experience car trouble at some point while driving. Despite the monthly expense, you may want to consider using a service like AAA, especially if your driver regularly travels to and from college. A classic membership costs $59 a month for two people and includes tire changes, battery boosts, towing service, fuel delivery, and a lockout service. The cost is worth that peace of mind that feels just like a security blanket.
CLICK HERE to get our free newsletter and teen driving tips for parents.
Related articles:
Texting and driving is still dangerous for teen drivers
What are the top 5 dangers for teen drivers?
---
Get Social! Share Car Maintenance 101 for teen drivers