MADD joins forces with the Atlanta Falcons to end drunk driving
September 12th, 2016
drivesmartgeorgia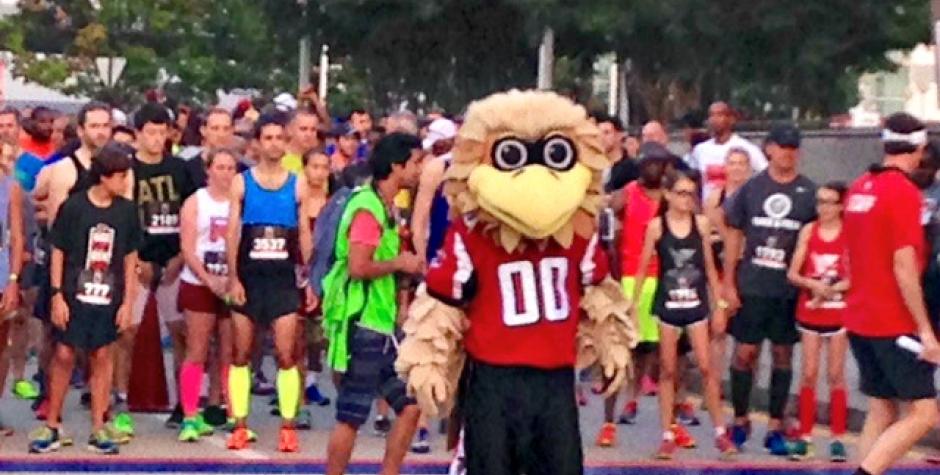 On Sept. 10, Drive Smart Georgia participated in the annual Walk Like MADD 5K Run/Walk. This year marked the first time that the annual Rise Up and Run 5K and Walk Like MADD 5K morphed into one single event at the Georgia Dome. The result was spectacular and participation quadrupled from 1,000 in 2015 to 4,000 runners and walkers in 2016. Arthur Blank was in attendance, as was Drive Smart Georgia, on a brilliantly beautiful and sunny day.
The worthy event, presented by Northside Hospital, consisted of a 5K run/walk that began at International Blvd. next to Falcons Landing. The city's favorite mascot, Freddie Falcon, raised the flag to herald the start of the race, which snaked through downtown streets and ended at the 50-yard line in the Dome.
The event was highly organized and ran like clockwork. In addition to a huge jump in participation, there's even better news. All proceeds generated through the event will benefit MADD, the country's largest nonprofit working to protect families from drunk driving, drugged driving and underage drinking. According to MADD CEO Debbie Weir, the walk raised more money than any other in the organization's 36-year history.
MADD credits Arthur Blank and the Atlanta Falcons for this year's huge success. "We're just thrilled to be able to put on an event for such a worthy cause," Falcons Director of Community Relations Chris Millman said. "Mothers Against Drunk Driving is a huge issue here in our local community, and the fact that we could be a part of this event here today, to create awareness, is something that's very important to this organization."
This was the second time that Drive Smart Georgia supported Walk Like MADD. "Whatever we can do to help keep young people safe on the road, we'll be there," stated Drive Smart Georgia CEO Kirk Bressette. "We are proud to be a supporter of MADD and look forward to continuing this important partnership."
On October 15, 2016, Drive Smart Georgia will host a free and interactive community event called "Start. Smart. Drive!" It will be held from 12 Noon – 3 pm at 6000 Medlock Bridge Parkway in Johns Creek. MADD will be on hand to talk to parents about the dangers of drunk and drugged driving. In addition, Alan Brown, the founder of Joshua's Law, will also speak to parents about keeping teens safe on the road. AAA, the Johns Creek Fire Department, and UGA will provide interactive safety demonstrations.
To register for this free and interactive community event geared towards teen drivers and their concerned parents, head to the Eventbrite registration page.
CLICK HERE to get our free newsletter and teen driving tips for parents.
Related articles:
Texting and driving is still dangerous for teen drivers
---
Get Social! Share MADD joins forces with the Atlanta Falcons to end drunk driving